Gray and wet evening. The streets are almost empty. We know why.
Autumn is slowly leading us into hibernation.
Then, when entering the lobby of the city library in Zadar, everything suddenly changes, the 13th International Art Colony, Virtual Turanj 2020, shines in the Arbanasi department.
The colony, which was in Turanj every May, was postponed to October, but the situation did not allow it during this period either. The organizing committee of SKD Lipa Zadar decided to create a virtual colony.
The goal has definitely been achieved. The friendships of the painters, despite the harsh reality, are not broken, but the flash of colors will shine until the next colony without the virus.
Admirable is the work of hard-working painters, 28 participants of the colony, who with the strokes of the brush surrendered to the imagination, and filled our hearts in these gray times with light and joy.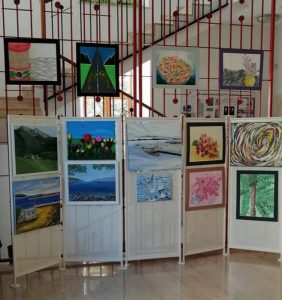 We from SKD Triglav Split also enthusiastically enjoyed this colorful magic, proud of the hardworking painters of our section Mirjana Božulić, Aleksandra Hajdić, Lidija Stehlik and the leader Ivan Kosmos.