In October, we decided to renovate and modernize the computerization of the premises of our association in Šibeniška Street. The space is now fully covered with a strong wi-fi signal. A bad signal has been a significant problem in the past. We purchased two laptops and a new printer that can be connected wirelessly. This allows employees, members of the association, all sections and visitors faster access to information and easier work. We are also creating a new website.
November 16 at 12:33 p.m.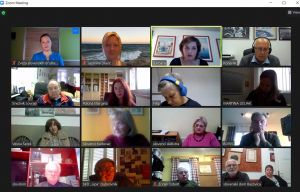 On 16 November, the Association of Slovene Societies in Croatia organized a meeting of the presidents of Slovene societies in Croatia online for the first time. Everyone present at the ZOOM meeting cordially greeted each other and exchanged news and ideas.